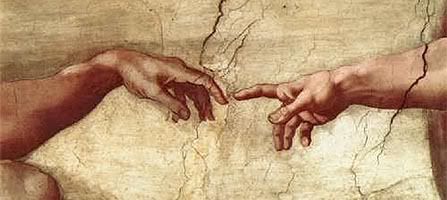 As part of my community health course at school, I've been spending quite a bit of time attending sessions at or related to Alcoholics Anonymous. AA is a pretty unique program geared toward helping alcoholics overcome their addiction. It's laid out as a twelve-step process, supported by other alcoholics. Abstinence to AA is a lifelong and life-changing road. Recipients of the fruits of the program in turn give back what they have gained through sponsorship of other alcoholics, their time, and their commitment.
To AA, recovery is a spiritual process requiring a "psychic change" or radical shift in the way an alcoholic perceives the world (a Christian might call their initial state a "hardened heart"). It requires that they accept that they alone are not in control of their addiction and require a power outside themselves. The often controversial third step of the twelve step program is as follows...
[We made] a decision to turn our will and our lives over to the care of God

as we understood him

.
The words "as we understood him" are key to modern AA practice. While AA claims to be a spiritual organization, it does not purport to be a religious one. Today, the "God of our understanding" signifies a power beyond ourselves. Some people understand this to be the God of a particular religion, others a general energy force guiding the universe, and still others attribute this to be the power of the group itself.
This raises a number of interesting issues. Firstly, despite its non-religious underpinnings, AA feels familiarly church-like. Meetings generally begin with a prayer (the Serenity Prayer) and key doctrinal readings to AA (the Twelve Traditions and Twelve Steps). These are followed by announcements and then by a speaker. The meeting welcomes newcomers and then closes with a prayer (often the Lord's Prayer).
THE SERENITY PRAYER



God grant me the serenity
to accept the things I cannot change;
courage to change the things I can;
and wisdom to know the difference.
Despite the recognizable structure (akin to opening prayer, scripture reading, announcements, sermon, welcome and introductions, and closing prayer) and even the recital of Jesus' own prayer, AA is a non-religious entity and will remain so.
Speaking to a fellow believer about the church-like feel of AA meetings, they commented, "It feels kind of incomplete to be approaching so close to the truth, yet to shy away from it."
I understood the sentiment. Alcoholics Anonymous had formed under the auspices of the Christian faith, recognizing the effectiveness of that faith yet with the laser-like focus of attacking alcoholism. But the purpose of AA is to treat alcoholism, not to proselytize for Christ or any particular religion. If faith in one particular God is a barrier to helping others overcome alcoholism, then it cannot be integral to AA. It is our job as
the church
to spread the good news of Christ.
MATTHEW 28 (NLT)



19 Therefore, go and make disciples of all the nations, baptizing them in the name of the Father and the Son and the Holy Spirit.
An interesting dialogue arose during the sharing of an alcoholic at one of the AA sessions I attended. The alcoholic in question was of the impression that God did indeed exist, and he made the following statement:
Religion is man-made.
Spirituality is God-given.
I found this to be an understandable statement, though I disagreed with it. Religion as an institution is man-made, yet the foundation of religion are claims of truth brought to man through revelation. If spirituality is God-given, that is if God exists to share of himself and his nature with us, then it makes sense that God would reveal to us things spiritual. That is what religion is: knowledge about God, and life, and goodness revealed to man through a spiritual interaction with God himself.
JOHN 16 (ESV)



12 "I still have many things to say to you, but you cannot bear them now. 13 When the Spirit of truth comes, he will guide you into all the truth, for he will not speak on his own authority, but whatever he hears he will speak, and he will declare to you the things that are to come. 14 He will glorify me, for he will take what is mine and declare it to you. 15 All that the Father has is mine; therefore I said that he will take what is mine and declare it to you.
Perplexing, though, was that the same man then followed up with this anecdote:
One day we were going over the third step, and my sponsor said, "Oh, you think I'm going to give my life over to just any God? No, I don't think so. I'm going to write the job description for God. And my God is going to be better than any of your gods. He's going to be omnipotent, omniscient, he's going to have a sense of humour..."

And I thought to myself, that's a great idea. So I took that God as my God. Then I added the most important characteristic of my God: That he loves me and wants nothing bad for me.
Two reactions hit me at the same time. Firstly, this description of the ideal God fit the God of Christianity to a tee. He is omnipotent, omniscient, creative... and he is
love
!
1 JOHN 4 (NLT)



7 Dear friends, let us continue to love one another, for love comes from God. Anyone who loves is a child of God and knows God. 8 But anyone who does not love does not know God,

for God is love

.
Secondly, by setting out the job description for God, you are setting limits on a being that you already believe exists.
That
is man-made. If God exists and is empowering you, then imagining your own set of characters for God to possess if futile. God is who God is. I am reminded of the song
Who?
by the Newsboys:
How we gonna work this out?
To fabricate a God like this no doubt
We'd end up worshipping a Christ of our own design
But Jesus doesn't fit that profile
His ways aren't mine

I'm not following a God that's imagined
Can't invent This deity
That's why Jesus is the final answer
To who I want my God to be
He's who I want my God to be
Get your own playlist at snapdrive.net!
God is beyond our understanding or our imagination. Were it not so, how could he be God?
EPHESIANS 3 (NLT)



20 Now all glory to God, who is able, through his mighty power at work within us, to accomplish infinitely more than we might ask or think. 21 Glory to him in the church and in Christ Jesus through all generations forever and ever! Amen.
I'd like to share one last anecdote. When asked what kind of experiences led him to believe in God, the speaker shared a story of how he had been drunkenly driving one night, speeding toward a motel to get laid. Losing control of the car, he swerved into the opposing lane. If there had been any traffic in the other lane he would have been dead on impact, but luckily he had caught the opposing lane on a red light. This was not the only instance where such an incident occurred. He expressed an inability to explain these blessings without a greater power looking after him.
During the break, when the speaker had exited the room, two of my colleagues began discussing the experience. One began:
Red light? He had a 50/50 chance. What about that 50% that didn't survive to tell the story. God?

Come on

!
I found this attitude somewhat disconcerting. Sure, there were certain odds at work. (The fact that this had occurred on more than one occasion probably means the he beat the odds by quite a bit!) Certainly, survival does not and cannot prove the hand of God. True, people die everyday. But what this man believed - that he had survived by the grace of God and that he had been in that positive 50% because of the hand of God - true or not, is not ridiculous. It is not impossible. It is not absurd.
ROMANS 8



28And we know that for those who love God all things work together for good, for those who are called according to his purpose.
God exists. He is unchanging and beyond our capacity for invention. He calls to you and to I. He loves us, and desires to do good to us and through us.